Now available: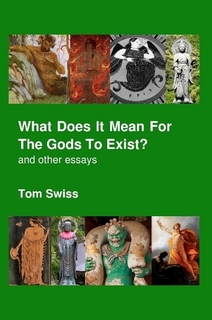 What Does It Mean For The Gods To Exist?
and other essays
by Tom Swiss
---
What is a god? What does it mean to exist?
Can one be both an atheist and a Pagan?
Do ancient spiritual traditions have any lessons relevant to the Ferguson and Baltimore Uprisings?
Could the Buddha legitimately be called a humanistic Pagan?
Is nudity – going "skyclad" – too wild for modern spiritual seekers?
Does the culture of Burning Man share values with the modern Pagan revival?
Explore these and other questions in this collection by one of the most original and outspoken writers in contemporary Paganism. Includes twenty-six pieces by Tom Swiss, including his complete run on the Patheos Pagan "Agora" blog.
Paperback: You can purchase directly from Lulu, or order at Amazon, Barnes and Noble, Powell's, your local independent book seller (ask them to order ISBN 978-1365222467), or directly from the author.
Ebook: avaiable at Lulu. (EPUB format, DRM-free, supported by most readers but requires free conversion to use with Kindle -- directions are on Lulu's website.)
Free Ebook!: What Does It Mean For the Gods to Exist is also available in a free-of-charge, CC-BY-NC-ND 4.0 edition for you to share and enjoy. This Creative Commons edition contains all of the original text, but also interrupts you several times to ask you to support the author — sort of like a public television or radio pledge drive.